Pasadena's German Auto Specialist & Mechanic
Whether your vehicle requires major repairs or is due for maintenance checks, A. German Auto Services of Pasadena, CA is qualified to handle it all.

All of our technicians here at A. German Auto Services of Pasadena, CA are highly experienced and trained and know exactly how to address all auto repairs and car services.

Not only does this ensure your car is repaired correctly the first time, but it also helps keep your car on the road as long as possible. So, if your car is giving any trouble or requires major repairs, call us or set up an appointment online.

You can also contact us if you have any general questions about your car. We are here to help our customers in any way we can.

You Can Count On A. German Auto Services

BMW Specialists
Audi Specialists
Mercedes Specialists
Mini Cooper Specialists
Sprinter Specialists
Great Customer Service
World Class German Automotive Repairs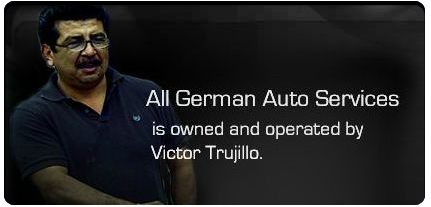 From The Owner
As a small business, we are able to provide a very personal and specialized service.
It would be our pleasure to assist you with any service needs your vehicle may have. Or to answer any questions you may have regarding the care and maintenance of your vehicle.
Our Services
Full Service Auto Repairs
Auto A/C Services
Alternators & Batteries
Brakes & Rotors
Belts & Hoses
Clutch Repair
Heating & Cooling System

Electrical Services
Exhaust & Mufflers
Oil Changes & Lube
Computer Diagnostics
Steering & Suspension
Safety Checks
Light Replacements

MFR. Maintenance
Tire & Wheel Services
Water Pumps & Radiators
Ignitions & Starter
Emissions Work
Tune-Ups
And More!
A. German Auto Services
Your One-Stop Source For The Best BMW, Audi, Mercedes, Mini Cooper & Sprinter Repair and Maintenance in Pasadena.
Here at A. German Auto Services, your car is in great hands with our professional team of technicians that will make sure your car running in excellent condition for the years to come. So feel free to call us and ask us any questions you may have about the performance of your vehicle
Our trusted local technicians have years of experience on handling any BMW, Audi, Mercedes, Mini Cooper & Sprinter repair and maintenance service to keep you running trouble free. Located in Pasadena, A. German Auto Services use the very latest in auto repair technology to make sure your car is returned to factory standards.